In a recent phone conversation, I got the chance to talk with Doug Burns, director of business development at Lenze Americas Corp., about how new automation-software developments are dramatically reducing machine development time and simplifying the programming of motion control and robotics.
In our conversation, we also discussed how robots are increasingly common in packaging, but a lot of times, builders get bogged down integrating those controls and kinematics into larger automation systems. The takehome point from our podcast is that in many cases, standardized software makes these design tasks far easier. Listen in:
As Burns mentions, Lenze will have some of its own software offerings on display during Pack Expo 2015 next week in Vegas. PackML standards for automation (and for making the lives of machine builders easier) will take center stage this year.
Related: Lenze motion control experts present on Innovation Stage at PACK EXPO Las Vegas — Lenze will present on the Innovation Stage at PACK EXPO Las Vegas on Wednesday, September 30, 2015 at 11:00 A.M. Visit the company's booth at S-6033.
In the last half of our chat, Burns stressed how important is it for design software these days to work with PLCopen and IEC 61131-3 programming. He also offers some tips for application engineers tasked with establishing delta-robot controls, electronic camming, conveying, cutting, and tensioning.
Subscribe to Design World's Technology Tuesdays Podcasts or hear other episodes at soundcloud.com/design-world. Get updates at designworldonline.com as well.
---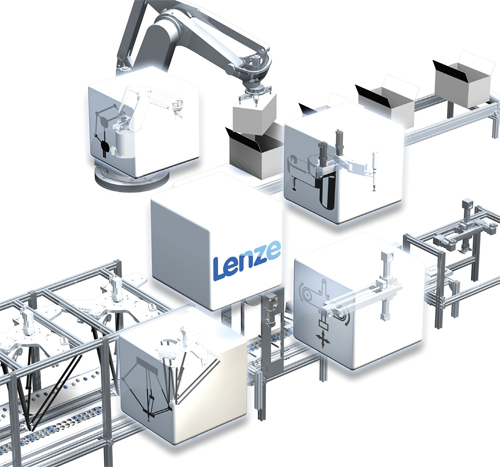 Related August 2015 article: Software with standard modules can now drive motion and robots | Detlef Stork – Technology Manager, Motion – Lenze
Today's increasingly custom products are leading to smaller production batches, so production machinery is becoming more flexible. Robots are useful here because they're not tied to rigid motion sequences. No wonder robots are on the rise in industrial manufacturing, especially in the packaging industry. The only catch is that it can be difficult to integrate robots (and their controls and kinematics) into larger automation systems. It's still standard practice for machine builders to buy kinematic axes and program them from scratch, or to buy proprietary turnkey robots and add them after the fact.
Especially for Cartesian robotics, some manufacturers now offer software toolboxes with standardized and reusable software modules to let machine builders set up flexible robot stations more easily. They let builders treat machinery controls and motion functions holistically. The modules adhere to the technical specifications of PLCopen and IEC 61131-3 and include complementary functions for delta-robot controls, electronic camming, conveying, cutting and tensioning … read more …
---
Also on display at Lenze's Pack Expo booth S-6033: i500 inverters
The i500 is a new range of i500 frequency inverters for virtually any machine application and industrial environment.  It conforms to future EN 50598-2 efficiency standards.  Lenze i500 inverters are also compact — just 60 mm x 130 mm. All of the i500 components are efficient, so power density is high and inverter size is minimal. A cooling system lets users install them side-by-side (with zero-clearance mounting) in control cabinets. Interface options enable fast setup, and modularity allows for myriad product configurations depending on machine requirements. 
Inverters for control cabinet installation feature IP20 and IP31-rated protection.
Delivering functional scalability and integrated safety, the Lenze i500 power section is structurally separate from the control unit, and contains different forms of field bus communication, including Ethernet, multiple I/O interfaces, and plug options for a keypad, a USB interface or a wireless LAN module.  These interfaces provide users greater flexibility and ease of commissioning, parameter setting, maintenance and diagnostics.  The wireless LAN module can communicate with a PC or via a smart phone keypad application.
The i500 is suitable for pumps and fans, conveyors, formers, winders, traveling drives, tool and hoist drives.