Nanopositioning—positioning on the scale of one-billionth of a meter—is a common requirement in semiconductor and medical applications, such as metrology, scanning, dispensing, and pumping. But consistently achieving nanometer-level resolution is beyond the scope of most devices that use mechanical rolling or recirculating elements. Case in point: the most common solution for nanopositioning applications is the piezo motor (also referred to as a piezo actuator), which uses no mechanical bearings or transmission components.
Piezo motors operate on the reverse piezoelectric effect, which induces a mechanical stress on a piezo material when an electrical charge is applied. Piezo actuators take advantage of this effect to produce motion (expansion or contraction) and force. But while their speed and force capabilities are relatively high for their small size, piezo actuators don't fit all nanopositioning applications. In some cases, a linear motor stage or voice coil actuator is a better choice, depending on the performance criteria.
When higher forces are needed: linear motors
Linear motors are direct-drive, non-contact devices, and as such, they don't suffer from the effects of friction, compliance, or backlash. This allows them to produce nanometer-level motion. Linear motor stages can be driven by either ironless motors, for lower mass and higher acceleration, or by iron core motors, for higher forces. When used in nanopositioning applications, linear motor stages are typically integrated with either air bearings or crossed roller slides for support and guidance. However, air bearings have a significant benefit over mechanical bearing guideways in nanopositioning applications, in that they're completely non-contact and virtually frictionless, whereas mechanical bearings suffer from wear and startup friction.
Linear motor stages offer two primary benefits over piezo actuators: stroke and load/force capability. In general, piezo actuators are when the application calls for strokes of a few inches or less, for rapid, oscillating motion, or for high holding force when powered off. Linear motors, on the other hand, are typically used for strokes greater than a few inches and can be built in lengths up to several meters. This is beneficial, for example, in medical imaging equipment, where the overall stroke is quite long, but the positioning resolution required is in the nanometer range. Linear motors can also achieve high acceleration and simultaneously produce thrust forces in the thousands of Newtons. However, linear motor stages have a much larger footprint than piezo actuators, making them a challenge to integrate into small devices.
For force or torque control: voice coils
Voice coil actuators are similar to piezo actuators in size and footprint, but their operating principle is more like that of linear motors, consisting of a coil and a permanent magnet field. When current is applied to the coil, the motor moves in one direction, generating a force that is proportional to the current. When the direction of the current is reversed, the actuator moves in the opposite direction.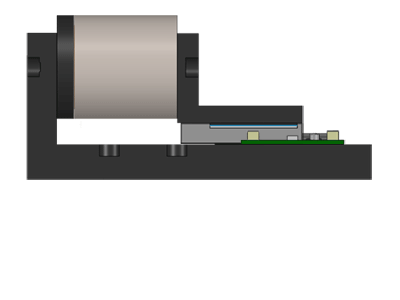 Like linear motors, voice coils can be integrated with crossed roller slides or, more commonly, with air bearings for guidance and load support. Unlike ironcore linear motors, voice coil actuators don't suffer from the effects of cogging, giving them extremely smooth motion. Although they can achieve longer stokes than piezo actuators, voice coil actuators are still somewhat limited in stroke length. Maximum stroke for a voice coil actuator is typically 5 to 6 inches. Longer strokes are possible, but efficiency decreases in proportion to the actuator's length.
Voice coil actuators, like piezo actuators, can be configured to provide either linear or rotary motion. In linear motion applications, they're commonly used to supply force or pressure control, whereas in rotary applications they supply torque. Although voice coils supply high force (or torque) for their size, piezo actuators generally provide higher continuous, intermittent, and holding forces. Like piezo actuators, the low moving mass and inertia of voice coil actuators makes them suitable for high frequency, oscillating movements.
---
To learn more about linear motors, check out our sister site, www.linearmotiontips.com, for posts regarding ironless and iron core linear motors. You can also find a primer on air bearings there.